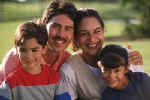 The field of membership shall be limited to those having the following common bond:
1. Persons who live, work, worship, or attend school in and businesses and other legal entities located in Potter County, Texas, Randall County, Texas or Gray County, Texas;
2. Members of record of this credit union as of March 23, 1998 (the effective date of its conversion to community charter);
3. Spouses of persons who died while within the field of membership of this credit union;
4. Employees of this credit union;
5. Members of their immediate families; and
6. Organizations of such persons."