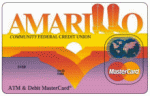 NOW YOUR ATM CARD CAN WORK LIKE A CHECK - ONLY BETTER. ASK FOR A Debit MASTERCARD TODAY!
Our Debit MasterCard is the check of the future, here today. It's still an ATM card - not a credit card - but now it does so much more. You can use it instead of a check everywhere MasterCard is accepted - at over 14 million locations worldwide.
Using your Debit MasterCard couldn't be easier. Just present our Debit MasterCard at the time of purchase and the amount will be deducted from your checking account. Plus, with each purchase, you'll always get a receipt for easy record keeping and a detailed record of every transaciton on your monthly checking account statement.
You can still use our Debit MasterCard to withdraw cash all over the world - at more than 400,000 Cirrus Network ATMs. So, why carry cash or checks when you can carry our Debit MasterCard.
CHECKS HAVE CHANGED FOR THE BETTER.
Now our Debit MasterCard is the hassle-free way to pay. There's no checkbook to carry. No check to write. No ID to show. No waiting for check approval. When you carry our Debit MasterCard, you're in and out of stores in no time - just sign and go.
Take advantage of all of the benefits of our Debit MasterCard and put the power of the MasterCard symbol to work for you. Call Member Services at 806-358-7561 or visit one of our locations to request your Debit MasterCard today.