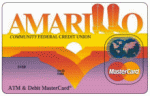 Let us know when you leave town -
call us first 358-7561
Why? It helps us protect your money from fraudulent purchases that may try to clear your account.

Please remember to contact us if you plan to use your Amarillo Community FCU debit card while traveling. We protect your account by using a fraud monitoring service to ensure only transactions authorized by you will clear your account. We will notate on your account the dates and places of your travel and a return date, this will allow your funds will be available to you as you travel.
Keep us up-to-date when you change your phone number or email address. It will help us to contact you in the event there is a question regarding a transaction.
If your card is lost or stolen during office hours, contact us immediately (806-358-7561 or 1-800-365-3238). After hours call 1-800-528-2273
Dispute Department: To dispute a debit card transaction, call 800-808-6402 (phone) 1-513-900-3542 (fax).
Travel Tips:
Always bring at least two ways to pay for your travel expenses - your Amarillo Community debit card, a prepaid debit card, credit card, checks or cash are all great options.
International Blocks - All international debit card transactions are blocked. If you are leaving the USA, please contact us so we can remove the International Block.
Blocks within the USA - We no longer are blocking transaction certain states. But, it is always wise to let us know you will be traveling so we can notate your card, that way our processor will see our notes and expect charges in other locations. If we have your correct cell phone number you may even receive a text that asks if you intitiated a transaction. All you have to do it answer YES and your transaction will be processed.
BEFORE you leave - make sure you have access to Mobile Banking, Online Banking or Audio Teller. Not sure if you've signed up? Call Member Services at 358-7561 - they will make sure you have access to your account while you're traveling.