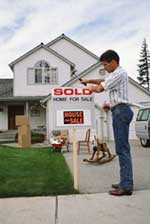 We're Here to Help You Buy the Home of Your Dreams
The real estate department at Amarillo Community FCU wants to provide you with the mortgage application experience you prefer. From a sit-down conversation in our office at our main location to an online application process that utilizes the latest technology. We aim to provide what you feel most comfortable with.
We have two options for purchase and refinance transactions: Loans that are applied for, processed and underwritten "in house" will require 20% equity in the property. If you do not have the available equity or down payment necessary - the loan will be handled by our "CUSO" Member Home Loan. A CUSO (Credit Union Service Organization) is an organization owned by credit unions and operates solely for the benefit of its owner/partner credit unions. Member Home Loan offers loan products with low minimum down payments for conventional and FHA loans, along with options for investment properties and vacation homes. This application for Member Home Loan can be accessed through this link www.memberhomeloan.com. You can apply, sign electronic disclosures, and upload loan documents via pdf all from the comfort of your home. You are also welcome to schedule an appointment to come in to our main office and fill the application out with us. Plus, we are always happy to assist you in uploading loan documents for you regardless of how you applied for the loan.
We love helping first time home buyers and would love to schedule a consultation with you. Whether you are ready to purchase now or 5 years from now, let us help put together a plan for buying the home of your dreams. Our goal is to set you up for success by giving you financial advice geared specifically for purchasing your home.
Home Equity loans are done right here in our Amarillo Community FCU offices from start to finish.
NO Application Fees
NO Closing Costs
NO Appraisal Fees (based on tax appraisal)
NO Early Penalties
Get the cash you need for whatever expense you can imagine. Stop by any Amarillo Community FCU location to pick up your application packet today.
Contact Lee Robinson at 358-7561 x 3411 for more information.
NO Application Fees
NO Closing Costs
NO Appraisal Fees (based on tax appraisal)
NO Early Payment Penalties
You can take an extra .25% off your Home Equity Rate when you set up Automatic Payment from an Amarillo Community FCU checking account. To request a Home Equity Application Packet please contact a Member Account Specialist at 358-7561.